AT MY THAI, we pride ourselves on being the go-to spot for the best Thai food in La Quinta. Our roots trace back to the heart of Thailand, ensuring every dish reflects the rich culinary traditions of the region.
Thailand's essence, captured in each savory plate.
From spicy Thai food to vegetarian Thai delights, our menu caters to all palates. With Chef Sathin's specialties gracing our menu, you're in for an authentic treat.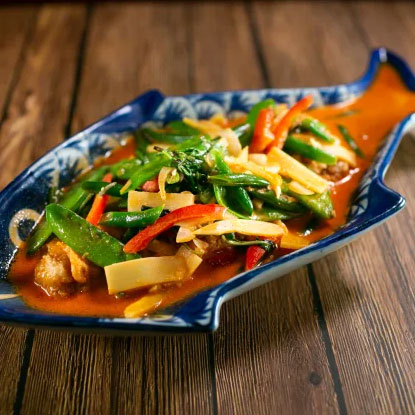 PLA PAD PRIK
Crispy fish drizzled in a rich red curry, infused with aromatic Thai herbs, creamy coconut milk, crunchy snow peas, vibrant bell peppers, and fresh green beans.
PAD THAI
Delicately pan-seared thin rice noodles, intertwined with fluffy egg, crunchy bean sprouts, nutty crushed peanuts, and fragrant scallions.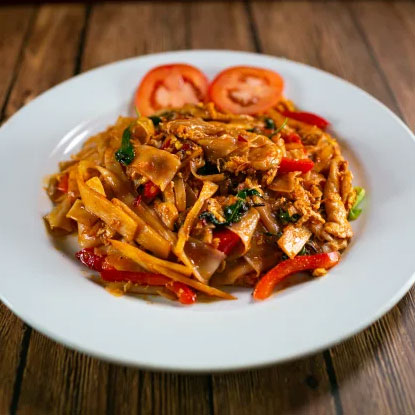 PAD KEE MAO
Pan fried flat noodles with spicy Thai chili, egg, onion, bamboo, basil leaves and bell pepper, on a bed of lettuce.
APPETIZERS
Mixture of vegetables and glass noodles, deep fried.
Grilled chicken on skewers marinated in Thai spices and served with cucumber dip and peanut sauce.
Crispy deep fried wonton stuffed with cream cheese and real crab meat. Served with sweet and sour sauce.
SIGNATURE DISHES
Shrimp, mushrooms, asparagus and carrots.
Lightly battered and fried pieces of white fish are combined with fresh Thai chili paste, green beans, red bell peppers, white onions, carrots, and kaffir lime leaves in a savory stir fry sauce.
Deep fried fish mixed with red curry sauce, Thai herbs, coconut milk, snow peas, bell pepper, and green beans.
Stir-fried seafood mixed with Thai chili, garlic, onion, bell pepper, bamboo shoots, green beans, and Thai basil.
OPEN 7 DAYS A WEEK
Monday – Thursday
11am – 3pm
5pm – 9pm

Friday & Saturday
11am – 10pm